This light and fluffy Belgian Waffle recipe is so easy to make from scratch.  Try adding fruit or other toppings and I think you will find that you will never need another waffle recipe!

Whip up some homemade Belgian waffles like a boss in your very own kitchen! Take those waffles to the next level with a berrylicious, cream-topped, syrup-drenched extravaganza!
What is the difference between a Belgian Waffle and a regular Waffle?
If you want to whip up some Belgian waffles, you'll definitely need a fancy Belgian waffle maker with a deep and spacious grid pattern. No shortcuts are allowed! You want those waffles to be thicc with two c's. We're waffley fond of this Belgian waffle maker. Belgian waffles: crispy on the outside, tender on the inside. Breakfast bliss! We're all about those deep squares, where syrup and toppings find their sweet, sweet sanctuary! 🥞🍯🍓
Regular waffles: thin, fluffy, not crispy. We're all about those Belgian waffles – fluffy and crisp, the best of both worlds! Why settle for one when you can have it all? Move over, waffle peasants, because Belgian waffles reign supreme!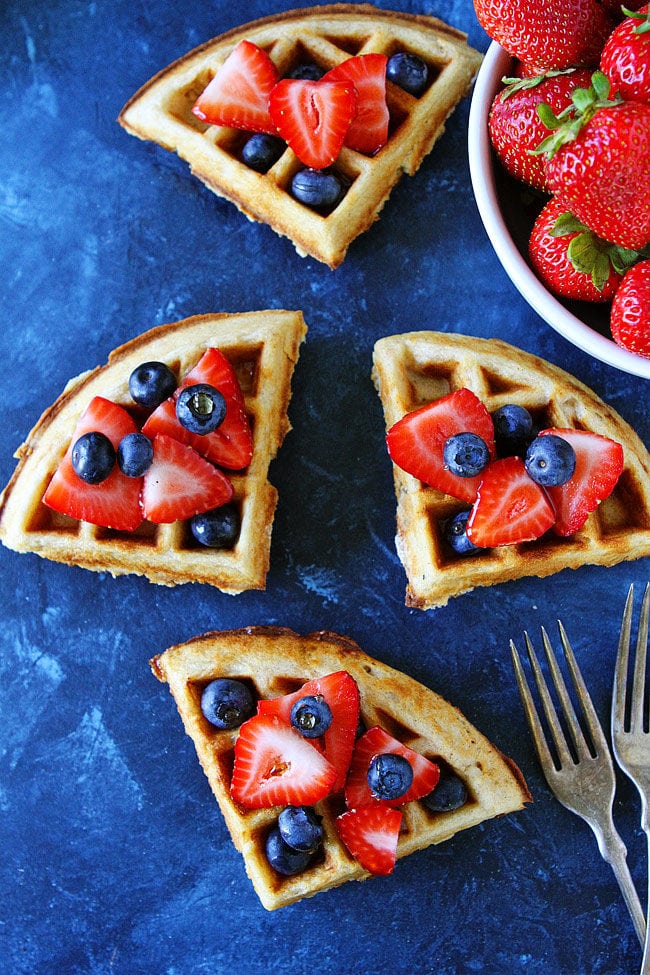 Equipment
1 Cuisinart Flip Belgian Waffle Maker – Stainless Steel
Instructions
Prep Waffle Iron: Preheat your waffle iron, spray with non stick cooking spray and set aside.

Mix Dry Ingredients:To a large bowl add the flour, cornstarch, baking powder, sugar, salt and whisk until combined.

Mix Egg Whites: In another bowl, add the egg whites and beat them with a hand mixer until stiff peaks form. Set aside.

Combine Ingredients: Add the egg yolks, melted butter, milk and vanilla extract to the bowl with the flour mix and mix until well combined. Fold in the egg whites with a spatula.

Cook: Pour the batter onto your hot waffle iron and cook according to manufacturer's directions.
Notes
To ensure optimal preservation, it is recommended to transfer any remaining waffles into a hermetically sealed receptacle and thereafter place them within the confines of a refrigeration unit for a duration of 3 to 4 days.
To extend the shelf life of Belgian waffles, it is advisable to allow them to cool thoroughly before proceeding to individually sandwich each waffle between sheets of parchment paper. To preserve the stack of waffles, it is recommended to transfer them into freezer bags and expel any excess air by applying pressure. The items should be placed in a freezer and stored for a duration of 3 to 4 months.
Nutrition
Serving:
307
g
|
Sodium:
194
mg
|
Calcium:
148
mg
|
Vitamin A:
521
IU
|
Sugar:
8
g
|
Fiber:
1
g
|
Potassium:
279
mg
|
Cholesterol:
83
mg
|
Saturated Fat:
9
g
|
Fat:
15
g
|
Protein:
6
g
|
Carbohydrates:
36
g
|
Iron:
2
mg